He's known as one of the stars in the award-winning reality show 'Made in Chelsea,' but did you know he's also the mastermind behind the urban Menswear company 'Serge DeNimes'.
Who is this 'he' I'm speaking of you ask? Oliver Proudlock, of course!
If you're familiar with E4's 'Made in Chelsea' then you'll know Mr Proudlock as being the guy with the unique-edgy fashion appeal (not to mention he's also pretty damn cute!).  In terms of Menswear, Oliver Proudlock speaks volumes with his fashion sense. He likes to create a statement, express himself and isn't afraid to play around with different styles and colours. This probably derives from his degree in Fine Art and love for photography.
Serge DeNimes [the name relates to Denim and Proudlock's adoration for it] was founded in 2011 and since has grown into something magical in-front of the urban menswear world.
The first Tee collection was inspired by photographs, which were taken in 1978 by photographer Lena Proudlock [Oliver's Mother], these images were focal on the Carnival in Rio de Janeiro. This collection was a success and has only proved how much Proudlock has to offer the world of menswear.
Two years later and Serge DeNimes have just released their latest A/W 13 collection, with items ranging from: all-seeing eye tee's; printed graphic tee's; phone-cases, and snapbacks – everything in the new collection is SO SERGE!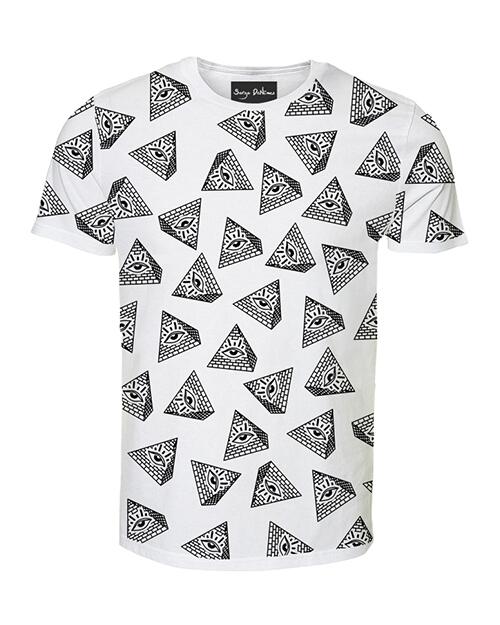 Serge DeNimes All Seeing Eye tee. || sergedenimes.com
PRE-ORDER THE NEW COLLECTION HERE: sergedenimes.com/shop 
CHECKOUT OLIVER'S STYLE BLOG: proudlockstyle.com.
TWITTER LINKS:
– twitter.com/SergeDeNimes.
– twitter.com/oliverproudlock.